Where on earth is MALTA !
It's not unusual to get a sort of a puzzled expression on many faces when you mention the word Malta. You expect some people to say - "I've heard of Malta or I have met a Maltese but I don't exactly know where or what it is." If you ask them to have a guess, they might place Malta in Africa, or maybe in the Middle East.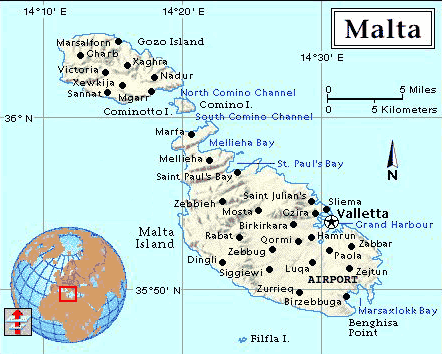 The Republic of Malta consists of Malta, Gozo, Comino and two small uninhabited islands, and is situated in the middle of the Mediterranean Sea. Malta is 93km away from Sicily and 290km from North Africa.
Malta has an area of 246 sq.km and is made up of a low plateau which descends gradually to the plain in the south-eastern part of the Island. Gozo, Malta's sister island (67 sq.km), lies just 6.4km to the north-west. The longest distance across Malta is 27km, and the widest is 14km. The corresponding figures for Gozo are14km and 7km respectively. Malta has no mountains - a series of terraced fields on the slopes characterizes the Islands. Malta's coastline is well indented with natural harbours, sandy beaches and flat rock coves.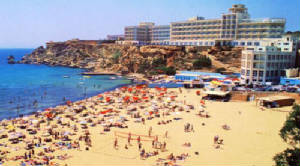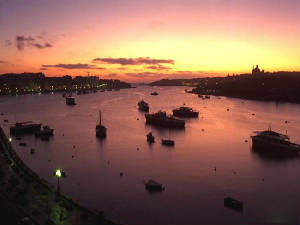 a brief history
After an impressive victory over the Ottoman Turks in 1565, the Island was endowed with some of the finest examples of architecture and fortifications in the world. The time of the knights was to last for 270 years, following which the Islands fell to the forces of Napoleon Bonaparte. Two years of unrest ushered in the arrival of British rule. Now began a long, sometimes strained, yet always close, relationship that endures to the present day. With Britain, Malta was to fight the Second World War, earning the praise and admiration of the world. The red and white Maltese flag still proudly depicts the George Cross for bravery beyond the call of duty; the only time a nation as a whole has received this award. After independence, in 1964, the economy moved from that of a military base to one based on tourism and light industry. The proclamation of the Island as a republic in 1974 followed by the formal departure of British troops in 1979 bring us to the present day.
MALTA to-day
MALTA joined the European Union on May the 1st, 2004, together with nine other countries.
Blessed with a warm climate and a highly adaptable, multi-talented workforce, Malta now attracts invaders of a most welcome sort - investors, European companies, high-tech light industry and over one million tourists each year. The last 20 years have seen the Islands make the transition to a forward looking, thoroughly modern country, still retaining its blend of Mediterranean culture, language, history and religion